The Membership Add-On for RAP!!! New Release!
The one capability elusive to RAP Sales System owners is finally here... a seamless integration of a RAP-based Membership Site that is extremely flexibile, scalable, extendible, extremely secure, that is dead simple to setup and use!

Welcome to the Newly Released
Membership Plus Add-On!
For a Limited Time Only! Membership Plus Add-On comes bundled with the PayPal Subscription Add-On to make this the Ultimate Add-On Package
A Brief Word...

This Membership Plus Add-On uses the latest release of the affiliate and sales system "Rapid Action Profits (v3.03)" - which is by far the best affiliate management, instant payment, download delivery and most flexible sales system on the 'net!

AND...

With the power of this Membership Plus Add-On, (coming bundled with the PayPal Subscription Add-On if you purchase it today!) there is no system on the 'net that can compete - or even compare to RAP.

AS A RESULT...

Make sure you read about the exclusive and massive discount to purchase the Rapid Action Profits system - ONLY for customers who purchase this amazingly profitable and extremely powerfully bundled package today!
Our Goal at RAP-Extras
With the RAP Add-On Architecture comes an enormous opportunity for you to not only extend your Rapid Action Profits Sales System into unthinkable territories of extendibility for making sales,... BUT! the one thing which still remains the same - and should be your entire focus in using Rapid Action Profits and Add-Ons is...
earning an income online for you, your family and your business!
At RAP-Extras, our goal is to help you do that by focusing our time and energy on creating extremely useful and highly productive addons and extensions using the Rapid Action Profits Sales System to bring you the highest return both short and long-term that are both immediately useful, and timeless.
Building On Our Success!
Building upon the massive success of the PayPal Subscription Addon - which totally transforms your RAP system into a residually profitable sales system, within a few clicks of the button, we continued a bit further to build from the ground up probably the most sought after RAP Add-On that will probably ever be built, and it's now available in...
Membership Plus Add-On

The Only Membership Add-On
Built Specifically for the RAP System!
This one script alone with literally allow those without any coding experience whatsoever, no other software required (except RAP of course), to generate unlimited memberships with unlimited members and makes managing them an absolute snap!
Why rap-extra Add-Ons?
rap-extras is where RAP Extras are created: designs, add-ons, and other extra features.
As a developer, owner, creator of online applications and online businesses, it's extremely fun, challenging and a personally very rewarding to come up with code that is not only functionally correct, but simple and visually pleasing to use as well.
Sometimes, I think that I'm the only one that actually gets giddy when someone says "Hey, is this possible!?"
So, to say that I love coding is a mild - OVERLY mild - understatement, and I also love the business aspect of the internet and this is why I have products that I've personally created on the internet .
I have to admit, as a internet entrepreneur and nearly 'expert' level coder, it has been extremely fun to be one of the very few people to play a role in how the Add-On Architecture was developed, and especially integrating it into my own personally developed 'hit' site, QuickWebCreations.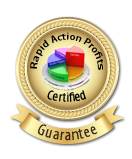 It's RAP "Certified"!!!!
This RAP Add-On like any RAP Add-On you should really only consider purchasing is one that is RAP Certified!
This insures that this and any future add-ons you buy will not interfere with each other either and the add-on has been thoroughly tested, scrutinized and most importantly checked for compatibility with other add-ons and the RAP System!
Why You Need the Membership Plus Add-On
Memberships are one of the only true ways to increase your customers' or subscribers' loyalty, while also increasing their perceived value of your products and services.
Create memberships with such ease in both implementing and managing.
Manage your members with a 'one-click' Admin Panel with every function being only "one-click" away.
Provide a clean organized way of delivering your digital content to your customers.
Provide a "TRULY" exclusive place for members to get access to particular download links, special discount links for future products, and special monthly content delivery without having to be a coder, be tricky with redirect links.
Maintain a highly professional look and feel with pre-designed templates, including a sidebar for extra comments, download links and/or selling other products - exclusively discounted to your members only!
Build a membership of loyal customers to whom you can cater to and really develop something more than just a one-time download link-type relationship with.
Provide an extremely secure way for both them to register and for you to deliver your goods and services without sacrificing security of open download links.
And, Remember!
You don't have to charge a monthly fee to have an excellent membership!
This one Add-On will revolutionize (LITERALLY) the way you think about how to sell a single products or multiple prducts, as this Membership Plus Add-On will change the way you think about using the Rapid Action Profits Sales System completely!
This Membership Plus Add-On will drastically increase the sticky-ness of your customers to your brand and to you with immediate credibility!
A Note To Those Who Have a Membership Script

Many of you are using membership scripts to protect your content that are either overpriced, bloated and/or easy to bypass any payment checking mechanisms altogether. Plus, most software scripts are filled with functionality that you'll probably never even THINK of using, so why should you pay for it! And to top it all off, they simply are NOT compatible with the RAP Sales System - unless you've got a team of coders willing to invest a bit of time to do the work - which would cost you hundreds in development costs!
Features of the Membership Plus Add-On
While it's extremely feature rich, we've focused almost all of our attention to the functionality that comprises 90%+ of all functionality needed for any memberships script.
Thru a simple, clean, concise, AJAX, Web 2.0 Admin Panel you can view, change and manage each product's membership site settings. Its intuitive design makes managing your memberships through Rapid Action Profits a snap! Allowing you to focus more on your business than trying to mess with code and database issues.

Listed below are some of the features:

Stay "Up-to-Date" with Instant Update Notifications

Notification of version updates, enhancements, discounts on our other add-ons as they become available. No worries! We'll just let you know thru your dashboard to keep you aware of special one-click downloads right to your desktop. Yep - as easy as the rest of the options with this add-on - all within One-Click!

Just click the link, save the file, upload and Voila!... You've got the latest and greatest version of this amazing RAP Membership Add-On.

Membership Path and Location Flexibility

This one piece of information drives everything on your site.

Membership path flexibility (off of the root or within several subdirectories.
Multiple memberships/location paths for each RAP product.

Easy Navigation in a Simple, Clean Design Interface

We've kept the design simple, clean and intuitive. Plus, we've installed some features that make setup a snap! like:

Web 2.0 interface and Ajax methods make naviation seamless
One-Click administration interface, for 90%+ of all features
Attractive and condensed interface, with the ability to show everything on one-screen at once - with only one click!

"One-Click" Downpage Page Access Allows Instant Content Creation and Exclusive Delivery to your Members Without Any More Work for the Owner

Being an avid and tenacious affiliate marketer (reselling ther people's products) unfortunately can keep you from creating your own original content.

Quite literally, we've designed this piece of code to allow members access to download pages for each of your products that you have already coded, uploaded, and prepared already for other projects. as a as a way of INSTANTLY creating content for your membership sites.

"One-Click" Access turns off/on download page availability for those members
You can even TIME-DELAY by Start/End Date or by Days after Purchase.
Or simply add new content "at your liesure" - using your download page as a way to deliver the content.
No need to setup hard-coded, tricky unlimited expiration dates on particular download link URLs!
Allows you to both sell content indivdiually as the RAP system currently is setup to do - AS WELL AS provide PAYING members, exclusive "free" or limited time access to particular download pages.

There's a whole video setup to explain how to exploit and use this that you'll want to watch!

Extremely Simple Membership Site Setup and Creation

Don't want to spend a lot of time getting the site up and running with fancy templates, NO PROBLEM!

Simply invest 1-2 minutes declaring your membership details in the SAME one-screen, one-click Membership Addon Admin Panel and you're site is already customized!

Some of the options include choosing the Template Colors, Button Colors, Sidebar Showing or Not, and others... with more to come!

For those who want to customize further, you have the flexibility also to provide that as well, the templates for layout and such are available for you to 'scale' upwards by adding your own functionality!

"One-Click" Member Management

WE KNOW what it's like to manage sites with 5,000-6,000 members and while many of you may just want a small membership site, we built it for memberships of any size!

This Membership Addon includes a Centralized Admin Panel for handling the most basic of features that comprise of nearly 90%+ of all membership management, including:

"One-Click" Resend of Member's Password
"One-Click" Auto-Login into Member's Account to Diagnose issues or test their account
"One-Click" Admin Override of Member's access... with the ability to LOCK-OUT and/or UNLOCK a Member from their account.
AJAX interface for filtering and sorting Members

We built this using ONE important factor in mind - ease and quickness of use! So again, we've implemented a very streamlined "one-click" management system that will make your life easier - or even give you the opportunity to hand that task off to someone else without them having to create specialized code, or get into your database whatsoever.

We Even Provide You a Walkthru to Help You Build It!

Online Video Tutorials - fully accessible from the bottom of the Membership Addon Admin Panel - show you Step-by-Step in less than a few minutes how to:

Setup your first Membership Site, including what to do with the files we give you.
Go over each setting not only how to use it but how to maximize it's use
Explain how to Maximize profits and/or increase your membership using the tools already available to you.
... and much more!
Not a graphics or template installation expert? No problem!
Along with building a back-office for the RAP Admin area, we also incorporated a stunning set of membership site templates that are just a click away.
Changing to one of the standard 5 templates - beautifully created, crisp templates is simply a drop-down away. Or, if you want to add a 'sidebar' - for you to cross-promote more of your products maybe - you simply are only "one-click" away.
Want to secure or protect access to your Wordpress Blog?

Or, do you want to secure a totally centralized directory where multiple members access areas can access at once!? Or protect any scripts, or applications, within or outside of any of your members only areas, with your RAP Membership Site?

Again, Solved with this Membership Add-On!!!
Fully Protect your Wordpress Blog without ANY plugins whatsoever required!
Completely integrated RAP Sales System eliminates need to use other third-party, un-certifiably functional scripts to protect your blog content!
Securely protect any directory's site/program!
... and many other uses, with only TWO-LINES of code inserted into the main subdirectory files (i.e. index.php).
You will also have a comprehensive, fully-detailed Quick Reference Guide to rely upon including Step-by-Step Instructions on doing just about anything with this Membership Plus Addon. Most importantly, we detail very quickly for you how to get your site up and running in less than 5 minutes as stated throughout this page.
We even detail in this Quick Reference Guide all of the variables/files that you may want to have access to - template and layout files, variables pertaining to the membership site to name a few of them.
The plan all along was to not just make this about usernames and passwords, but about building something greater! So, expandability and scalability was at the forefront of our development. So, we've incorporated the following as well:
Scalability, Extendibility, and Flexibility are just some of the key benefits you'll encounter as you really take a look at how we've coded the templates, for the membership site. You can extend your templates to include some of your favorite widgets if you'd like, or personalize in any other way you'd like.
Membership Site "Sidebar" where you can add those special links, announcements, special discount links to cross-promote yours or other sites' products - again, exclusive ONLY to your members when they're logged in!
Affiliate link to automatically direct them on how they can promote this membership to others! The links are autogenerated - and do not need to be changed whatsoever. Again, all the work has been done for you - so you can focus on your business and promoting it versus building links, pages, and code!
High Security Registration to your membership site! This is done in a rather creative and unique way that is exclusive to the RAP system - so that the only way they can get to register is by getting to a download page.
And, if you are really reading these bullet points - then re-reading the previous point indicates that you can use this for "giveaway products" as well... (oh yeah, just let that one marinate in the noggin' for a bit!). Who said you have to charge anything for your membership at all? (hint, hint).
Allows you to both sell content indivdiually as the RAP system currently is setup to do - AS WELL AS provide PAYING members, exclusive "free" or limited time sensitive access to particular download pages.
Automatic $0.00 sale insertions for the Sales Record for "giveaway products" and "product downloads" via the RAP Download Page access generator! This notes that they have access to it and that they are now a 'pseudo-customer' of your downloaded product.
We stunned the RAP community with our PayPal Subscription Add-On - many of whom immediately (within days) started their very own memberships using this extremely quick to use RAP Add-On.
As with all RAP-Extras Add-Ons it simplifies a complex process within only a few clicks of your mouse.
Best of all, the PayPal Subscription Addon is:
Fully compatible and functional with the RAP Membership Plus Add-On
You don't even have to use the Extra Features option, if you use this Membership Plus Add-On - as they're seamlessly integrated and communicate with each other automatically!
No fancy integration necessary.
Adding the PayPal Subscription to this Package saves you almost 50%,
if you were to buy it separately!
Quite literally, I encourage you to time yourself!
As a result of our optimized code and installation process, you will not have to be a computer or coding guru to get your membership site up in 5 minutes! You only have to two a few steps.
Upload the files to your server.
Login to your RAP Admin Console and go to the Membership Plus Addon.
Modify two-three fields (yes, you will have to type a few words for this step!)
Click to make your site live! And you're done!
If you are a coder, and know what it take sometimes to install numerous scripts, then you will appreciate and enjoy the following:
No IonCube™ loader files need to be install or upload - which eliminates any issues with PHP versions, server or hosting compatibility issues whatsoever.
No coding/extra work necessary to .ini files, server files, server installations, or any other files!
No cpanel or server knowledge experience necessary!
No jockeying around with settings, or being on the phone with your server to get software versions uploaded or changed - just to get the add-on to work!
Again, just to restate the obvious but it gets me excited to explain this to you - that it works very seamlessly... and it's extremely simple to use as well...
Start Earning Residual Income and Get the
Membership Plus Add-On for RAP Today!
| | |
| --- | --- |
| | (quite literally,.. you'll be up and running accepting new members into your RAP-based Membership Site Solution in no time at all!) |
ATTENTION!!!

If you are currently using another membership script...

STOP!!!

Purchase a license to RapidActionProfits (RAP) -
because RAP is already the best affiliate management, instant payment, and most flexible sales system
comparing to its peers (which are few) on the 'net!

BUT...

With the power of the Membership Plus and PayPal Subscription Add-Ons combined there is ABSOLUTELY no contest - as there's nothing that even comes close in comparison. It's in a league of it's own,
and so are the incomes of those who have it.
More RAP Add-Ons In The Coming Weeks !

There are INNUMERABLE Add-Ons that I've got planned as a result of this Add-On being developed, and they'll be coming at a more rapid pace than before, as both the PayPal Subscription and Membership Plus Add-Ons were very convoluted and complex pieces of code - that took a combined total of nearly 330+ hours in developing. So, stay tuned for more extras for RAP from RAP-Extras.